JMJ
DEVOTED TO OUR LADY OF LA LECHE
To Schedule a Pilgrimage Please Contact the Church Office at (386) 454-2358

Santa Fe Shrine of Our Lady of La Leche
at
Mary, the Mother of God, ... "The first Catechist".
St. Madeleine's Catholic Church
High Springs, Fl. 32643
www.StMadeleinesFuture.org (activities)
Mary at Cana wedding:

'Do whatever he tells you.' - John 2:5
Our Lady of La Leche: Patroness of Mothers and Mothers-To-Be.
Prayer to Our Lady of La Leche

Lovely Lady of La Leche, Most loving Mother of the Child Jesus, And my mother, listen to my humble prayer. Your motherly heart knows my every wish, my every need. To you only, His spotless Virgin Mother, Has your Divine Son given to understand the sentiments which fill my soul. Yours was the sacred privilege of being the Mother of the Savior. Intercede with Him now, my loving mother, that, in accordance with His will, (mention your request here). This I ask, O Lady of La Leche, in the name of your Divine Son, My Lord and Redeemer. Amen. O Mary conceived without sin, Pray for us who have recourse to you.

Our Lady of La Leche, Pray for us

Healing Holy Hour every 3rd Friday of the month
at 7:00 PM in Shrine
Tuesday 7:00 p.m. Mass and Novena in Shrine

Mon., Wed., Thurs., Fri. 8:30 a.m. in Shrine

Eucharistic Adoration first Friday: 24-hour adoration from 9:00 a.m. Friday until 9:00 a.m. Saturday.
As Catholics, we Worship and Adore GOD Alone.
We Honor Christ's Holy Mother and the Saints for their exemplary lives.
Statues and pictures remind us to follow their example of a good Christian Life.
A Shrine is the sacred place to which its faithful make pilgrimages for a particular pious reason with the approval of the local bishop. Santa Fe in Spanish means "Holy Faith". High Springs is surrounded with the name of Santa Fe. The famous 75 mile Santa Fe River, which crisscrosses the High Springs area, derives its name from a Franciscan mission named Santa Fe Toloca formerly located near the river.
The location of Santa Fe High School, the Santa Fe College, the Santa Fe Boulevard and various businesses using this name all make the geography of faith imprinted in our community. Our Lady of La Leche (in Spanish means "our milking mother." From the 6th century grotto in Bethlehem the devotion to the Beloved Mother nursing the Infant Jesus was brought to Europe by the pilgrims during the Crusades. The Spanish faithful shared their devotion in the New World and created its first Marian Shrine dedicated to Our Lady of La Leche St. Augustine over 400 years ago. The new Santa Fe Shrine of Our Lady of La Leche, was ready by the beginning of December when the Year of Divine Mercy declared by Pope Francis commenced on December 8th, the Solemnity of the Immaculate Conception.
Reflection Nature Walk

GROTTO found on Reflection Walk
Dedication Day !

Dedication of Shrine 10/11/16
Santa Fe Shrine of Our Lady of La Leche
Devotion to the Mother of Jesus as Our Lady of La Leche may have roots in a 4th Century grotto in Bethlehem. To this day the Franciscan community maintains a shrine there called the Milk Grotto. Its centerpiece is the Blessed Virgin nursing the infant Jesus.
Remembrance of Kathryn Tyre at
Santa Fe Shrine of Our Lady of La Leche
12/11/16
When unable to find music devoted to Our Lady of La Leche, our Music Director - Scott Smolenski - composed this special song.

Sheet Music

Audio
| | | | | |
| --- | --- | --- | --- | --- |
| Shrine Original Blessing | Miraculous Medal | News Report | Hail Mary Prayer | Novena -Tuesday after 7:00 PM Mass |
| | | | | |
Miraculous Medal Prayer
Mary, this medal is a sign and a guarantee of your presence. You are present because your power is present, your voice is present and your love is present. Therefore, O wonderful Sinless Woman and our Mystical Mother, we call on you now to fulfill your guarantee. Bring us the great graces you promised to those who carry this medal, especially to those who wear it around their neck. Make us perceive our presence now and always. Make us consciously experience your power, your love and your guidance, that in their strength we may begin to share in your perfect response to God and to each of his creatures, and join in your war with the ancient Serpent. Help us utterly abandon our self-centered feelings and preoccupations. Help us hear and understand you. Teach us to listen and learn. Help us respond to you today and always; that made one with you we might more fully respond with the rest of the Church to the Father, Son and Holy Spirit, participating in their life and unity.
History of Our Lady of La Leche
The image of the Blessed Virgin Mary breastfeeding the infant Jesus dates back to the 16th century in the Spanish city of Madrid where she is called Nuestra Señora de la Leche y Buen Parto (Our Lady of the Milk and Happy Delivery). In 1598, the image was rescued from irreverent hands and enthroned in the home of a married couple. The woman and her unborn child were to die and her husband prayed intently to our Lady of La Leche to grant his wife a safe delivery. Our Lady heard his prayer and thereupon, his dying pregnant wife and child were saved. Together, the couple spread the news to other families about our Lady's power with God. Soon after, the devotion became famous throughout Spain. Becoming aware of our Lady's intercession, King Philip III, who was the ruler during that time, personally undertook the erection of a shrine in honor of our Lady of La Leche.

More than twenty years later, the early Spanish settlers brought a replica to the United States and enshrined it at the Mission of Nombre de Dios in St. Augustine, Florida. It was the first shrine ever to be dedicated to the Blessed Mother in the United States and was established on the very spot where the first parish Mass was offered 55 years earlier. The original chapel, built around 1615, was destroyed by gunfire during the colonial days and later, by a hurricane. The present chapel now houses a replica of the original statue that was destroyed during the Spanish Civil War of March 13, 1936.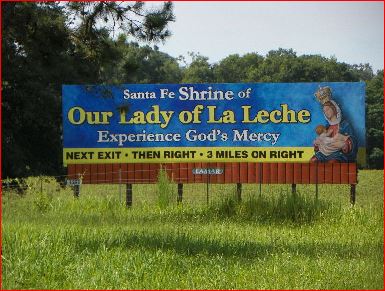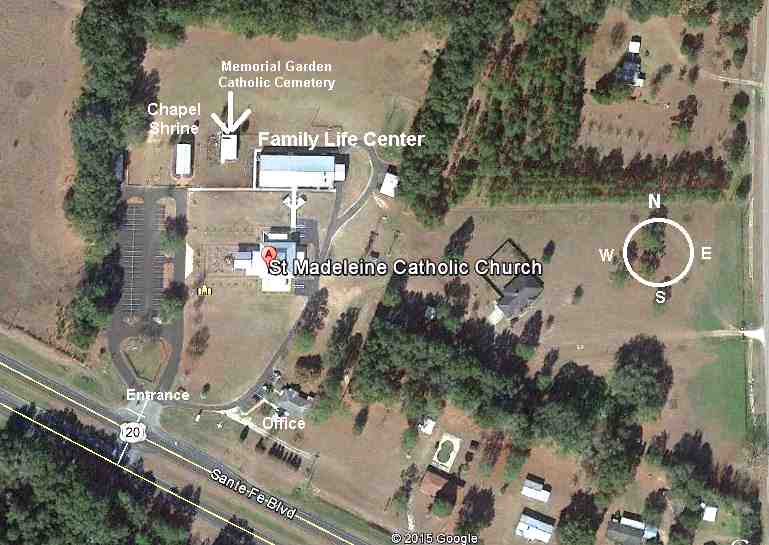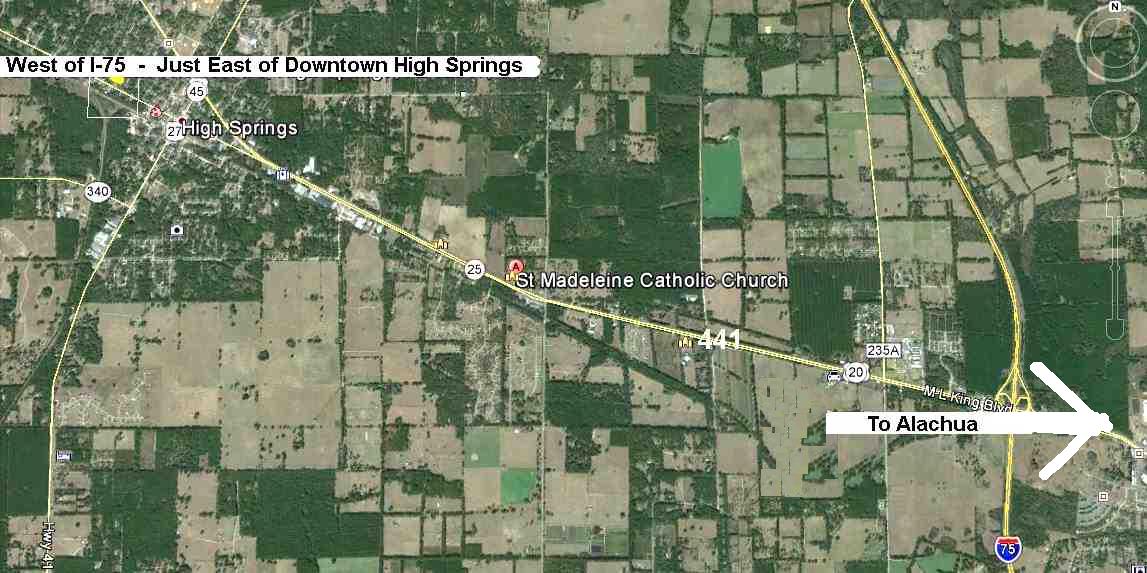 google1dc4486b46b57191.html]